Last Sunday, we had a great time at Greenlands Health & Wellness in Delray Beach talking to people about stress reduction using herbal teas and acupuncture.  Not only was the group well informed and knowledgeable, we were able to swap experiences in what kinds of methods help us reduce stress.  We learned a lot just listening to our audience members and gleaned new ideas for stress reduction from their stories!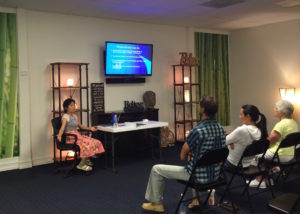 If you were unable to attend this talk, there are other chances!  We have another free lecture coming up on Sunday, June 12 at the Whole Foods Market in Pompano Beach!  This time, Dr. Li Zheng will be covering her favorite topic: inflammation.  Inflammation has garnered much attention in recent years, including long exposes in publications such as the New Yorker.  It is implicated in many illnesses from tendonitis to colitis.  However, because inflammation can be chronic and invisible until it causes a severe disease, we often ignore the signs until it is too late.
In this class, Dr. Zheng will teach you how to recognize the signs of inflammation and protect yourself from inflammatory diseases using herbal teas and acupuncture.  This event is free but space is limited, so make sure to pre-register today.  We look forward to seeing you there!